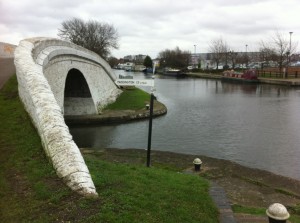 The sign in the picture has significance. Well significance to ultra runners anyway. Or more specifically ultra runners taking part in the Country to Capital at least (which takes place in January in case you're tempted). The sign signals a left turn that takes you into central London. Miss it and you're heading for Slough instead of Little Venice, and the only way back is to retrace your steps. And despite the fact there is a sign there's always a few runners who miss it and end up clocking up a lot of extra miles.
I've been running ultra races for the last four or five years now. Normally in the forty to fifty mile range, mostly off road and requiring a fair amount of map reading and navigation. Having got lost several times in races, I can attest that there is little more dispiriting than slogging it out in the dark, tired to the core, frozen by rain, lugging the certain knowledge that had I not made a mistake I would be long finished, showered, and nursing a hot mug of tea.
Having recently helped a client address a significant – twelve month – wrong turn with their CRM implementation, I can also attest that the pain and frustration is very much the same. In fact the basic principles of avoiding mistakes in ultra races and CRM implementations are pretty similar:
Carry a map and understand where you are on it – the key to not getting lost is to carry a map and more importantly understand where you are on it. From a CRM perspective – if it's not torturing the analogy too much – this equates to the importance of the detailed business and functional and requirements document and managing the CRM project around it.
Resist the herd mentality – the most common source of my map reading mistakes is when I make the mistaken assumption the runner in front knows where they're going. I've learnt over time to trust my own judgement, but it never ceases to amaze me how often whole packs of runners will suddenly plunge off in the wrong direction. In a CRM setting, it's easy to do the wrong thing if enough people tell you it's right, but I've seen organisations get themselves in deep trouble as a result.
If you're not certain you're right, take the time to check – in can be tempting in a race setting not to slow to check the map when you're not 100% sure, but this can be a bad mistake. During a CRM implementation, with the constant pressure of looming deadlines, it's easy to rush decisions that later prove very costly.
If you make a mistake, limit your losses – having selected the wrong fork in the trail it's sometimes tempting to plough on regardless, perhaps hoping that somehow you're not wrong after all, or that the trail will miraculously change direction and join back with the right path. This rarely happens of course – the further you head down the wrong route the further you have to come back again. In the CRM implementation world it's easy to make mistakes, and then compound them by not addressing them soon enough. If you think you've gone wrong, it's generally better to acknowledge the mistake early and take quick remedial action.
Not all decisions in a CRM implementation are well signposted unfortunately, and the consequences of wrong turns can be huge delays and vastly increased costs. Some organisations simply refuse to acknowledge the error and pretend the destination they reached by travelling on the wrong path was the one they intended all along, and live with a watered down version of the original vision. The simplest answer is often to get independent advice – the equivalent to asking the well informed local when you're in unfamiliar territory. Pausing to ask for directions might add a little delay, but nothing compared to making the wrong decision.