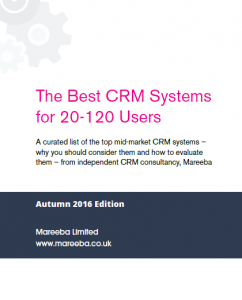 Over the last few months we've been assessing the CRM mid-market, specifically analysing the 20-120 user space. The result is a report which sets out our thoughts on the top CRM technologies in this area of the market.
The aim is to help potential buyers speed up the research process by providing a curated short-list of what we currently consider to be the best options.
For each CRM software package we've set out the key facts including pricing and where you can access evaluation software. We've also profiled each one, setting out their key strengths and when to consider them. Finally in the last section, we've set out some of the factors that you might want to bear in mind when reaching your final decision.
Please note that in terms of Microsoft, the report was correct at the time of writing but has been somewhat been superseded by the recent release of Dynamics 365. As things still seem to be in a certain state of flux in this respect, we will update the assessment once things become a little clearer.
Anyway, you can download a copy of the 'The Best CRM Systems for 20-120 Users' here, and we'll send you a quick update when the Dynamics 365 situation crystallises.