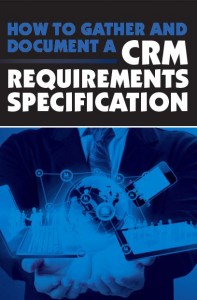 I've written a lot over the years about the importance of requirements gathering when implementing CRM systems. For me, the CRM requirements specification is the foundation of a CRM project, and I don't believe there's any other element that has as much influence on ultimate success or failure.
What's surprising however is that there's so little readily available material out there to help would-be implementers of CRM go about requirements gathering.
Which is perhaps why so many specifications end up as bullet-point lists of functional requirements that do little to help would-be buyers select the right technology, or implement it in a way that makes a genuine difference to the performance of their organisations. And why this has been such a common topic in the blog.
But our own approach to requirements specification has evolved since I first started writing on the subject nearly ten years ago, so I began a series of update posts late last year, with the promise that when they were finished I would edit them into a free ebook to make them a little more consumable.
That free, no-sign up required, ebook can now be found here.
Content includes:
Common mistakes
The five key objectives of a specification
The three most dangerous requirements gathering myths – including why users won't tell you what they need from a system
The content and structure of a specification
A step by step approach
Why effective requirements gathering is so fundamental to success